Typical Attendee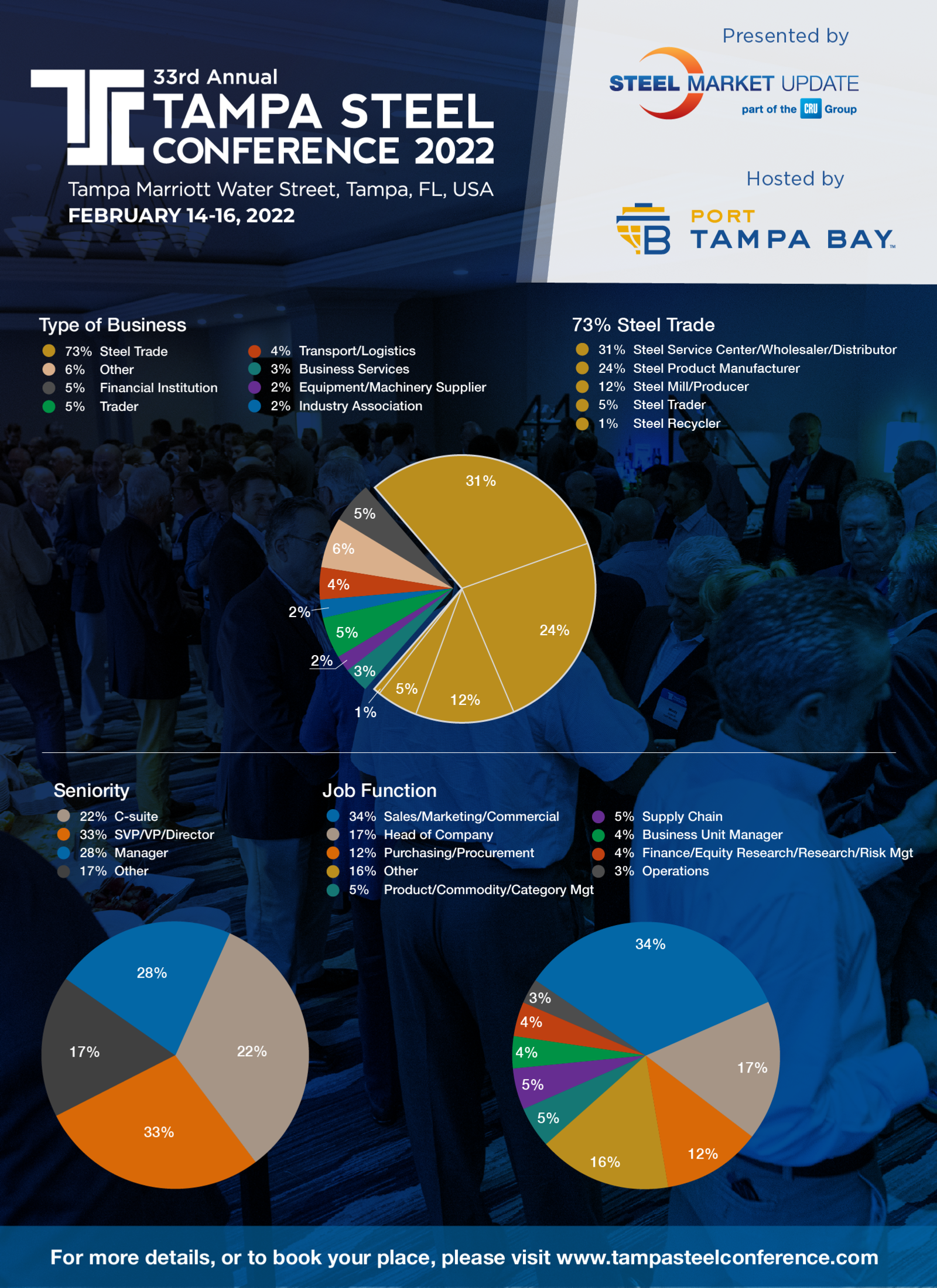 Summary
Port Tampa Bay
and
Steel Market Update
entered a new and successful partnership to produce the 2021 Tampa Steel Conference - Virtual edition.
Together, they are joining forces again to present and host the 33rd Annual Tampa Steel Conference offering an attractive depth of subject material and speakers along with robust opportunities to network and forge new connections.
The Tampa Steel Conference is one of the nation's oldest and largest steel conferences. As the movement of iron and steel products is extremely important to the U.S. economy, this event recognizes that importance and provides a wide array of topical information, as well as a forum to discuss the fast-changing steel market.
Steel Market Update (SMU) is well-renowned as the expert source of steel pricing, industry news and market trends in North America. Like the Tampa Steel Conference, the annual SMU Steel Summit is one of the industry's premier events. For the first time, it was held virtually this year and, attracting close to a thousand attendees, the online conference was received with great acclaim.
Past Sponsors & Speakers
2021 Speakers
(in order of appearance)
John Packard, President & CEO, Steel Market Update, Master of Ceremonies
Kevin Dempsey, President & CEO, American Iron and Steel Institute
Lewis Leibowitz, Principal, The Law Office of Lewis E. Leibowitz
Phil Bell, President, Steel Manufacturers Association (SMA)
Chris Shipp, Vice President Supply Chain, Priefert Manufacturing/Priefert Steel
Leon Topalian, President & CEO, Nucor Corporation
Dr. Walter Kemmsies, Managing Partner, The Kemmsies Group
Timna Tanners, Managing Director in Americas Equity Research, Bank of America
Josh Spoores, Principal Analyst - Steel, CRU
Derek Langston, Head of Research, Simpson Spence Young
Rebecca Brewster, President & COO, American Transportation Research Institute
2021 Sponsors
Title - Ports America
Lead - Reibus
Presenting - Crowe
Stainless - Atlantic Logistics, Bank of America, JIT Warehousing & Logistics, Mid-Ship Logistics, Nucor, Rukert Terminals
Alloy - 3VC Consulting, AJ Arango, Southwestern Supplies
Carbon - Infra-Metals, Magic Coil Products, Tampa Tank/Florida Structural Steel
Media - American Journal of Transportation (AJOT), FF Journal, Fitch Raings, Journal of Commerce (JOC), Metal Center News, Modern Metals,
2020 Speakers
(in order of appearance)
John Packard, Master of Ceremonies
John Anton, Director, Steel Analytics, Pricing and Purchasing, IHS Markit
Lewis Leibowitz, Owner, The Law Office of Lewis E. Leibowitz
Blake Hurtik, Editor, Argus Metal Pricing, Argus Media Group
Philip Bell, President, Steel Manufacturers Association
Dave Sumoski, Exec VP-Merchant and Rebar Products, Nucor
Richard Chriss, President and International Trade Counsel, American Institute for International Steel (AIIS)
John Foster, President, Kurt Orban Partners & Chairman, AIIS
Dr. Jerry Parrish, Chief Economist, Florida Chamber of Commerce
Thaddeus M. Bullard,aka,Titus O'Neil, WWE Superstar and Founder, Bullard Family Foundation


2020 Sponsors
Title Sponsor - Ports America
Presenting Sponsor - Atlantic Logistics
Stainless Steel - Fastmarkets AMM, JIT Warehousing and Logistics, Linder, Majestic Steel, Reibus, Rukert Terminals, Superior Steel
Alloy Steel - AJ Arango, MID-SHIP Logistics
Carbon Steel - American Shipping & Charteting, A.R. Savage & Son, Celtic Marine and Logistics, Concrete Reinforcing Products, Medtrade, Prestige Transportation & Wharehosue, Smith Metal Source, Southwestern Suppliers, TampaBay Steel, Tampa Tank/Florida Structural Steel, Terminal Shipping, Trademark Metals Recycling, Valmont Tampa Galvanizing
Media - AJOT, Steel Market Update
2019 Speakers
(in order of appearance)
John Packard, Master of Ceremonies
Philip Bell, President, Steel Manufacturers Association
Jean Carroll Kemp, Senior V.P. for Government Affairs and Trade Policy for the Steel Manufacturers Association
Richard Chriss, President and International Trade Counsel, American Institute for International Steel
Paul Nathanson, Senior Principal, Bracewell LLP
Thorsten Schier, North American Editor, Steel and Ferrous Scrap, Fastmarkets AMM
Paul Lowrey, President and Founder, Steel Research Associates
Todd Leebow, President and CEO, Majestic Steel
Chris Casey, PhD, Co-Founder and Executive Director, Independent Steel Alliance
Alice Ancona, Director, International Trade and Investment Office, Florida Chamber of Commerce
Jeff Vinik, Chairman and Governor, Tampa Bay Lightning and Partner, Strategic Property Partners, LLC
2019 Sponsors
Title Sponsor - Ports America
Stainless Steel - Atlantic Logistics, Freight Management Logistics, JIT Warehousing and Logistics, Rukert Terminals, S&P Global Platts
Alloy Steel - AJ Arango, Majestic Steel, Nucor, Reibus
Carbon Steel - American Shipping & Charteting, A.R. Savage & Son, Associated Terminals, Celtic Marine and Logistics, Concrete Reinforcing Products, Loggins Logistics, Nucor - Skyline Steel, Prestige Transportation & Wharehosue, RYERSON, Smith Metal Source, Southwestern Suppliers, Tampa Bay Pilots, Terminal Shipping, Valmont Tampa Galvanizing, Jasmin Logistics
Media - AJOT, Fastmarkets AMM, Steel Market Update


2018 Speakers
(in order of appearance)
John Anton
,
Director, Steel Analytics, Pricing and Purchasing, IHS Markit
Philip Bell
,
President, Steel Manufacturers Association
Alan Price
,
Partner, Wiley Rein LLP
Richard Chriss
,
President and International Trade Counsel, American Institute for International Steel
Lewis Leibowitz
, Owner, The Law Office of Lewis E. Leibowitz
Grant Aldonas
,
Principal Managing Director of Split Rock International; former U.S. Under Secretary of Commerce for International Trade from 2001-2005; former Chief International Trade Counsel to the Senate Finance Committee
Jo Isenberg-O'Loughlin
, Editor Emeritus, American Metal Market
Chris Casey, PhD
,
Executive Director, Independent Steel Alliance
Aldo Mazzaferro
,
Founder, Mazzaferro Research
Gregory Husisian
,
Partner, Foley & Lardner LLP
Derrick Brooks
,
Pro Football Hall of Famer
2018 Sponsors
Title Sponsor - Ports America
Stainless Steel - Gerdau, JIT Warehousing and Logistics, Rukert Terminals
Alloy Steel - AJ Arango, A.R. Savage & Son, Mid-Ship Logistics, Nucor, S&P Global Platts, Titan Metal Service
Carbon Steel - American Victory Ship, Associated Terminals, Blue Water Shipping Co., Celtic Marine and Logistics, Concrete Reinforcing Products, CSN, Freight Management Logistics, Southwestern Suppliers, Tampa Bay Pilots, Tampa Bay Steel, Tampa Tank/Florida Structural Steel, Terminal Shipping Co., Valmont Tampa Galvanizing
Media - AJOT, American Metal Market, Steel Market Update